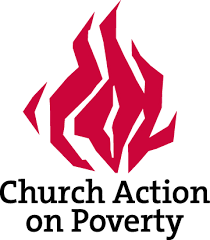 Church Action on Poverty are looking for an experienced practitioner to facilitate peer learning amongst churches in Greater Manchester.
 £27,905 – £32,029 pro rata, 7 hours per week, to be worked flexibly
 25 days' annual leave pro rata plus generous employer pension contribution
Based at Church Action on Poverty office, Salford. Working across Greater Manchester and occasional travel nationally. Subject to negotiation, the work could also be carried out on a freelance basis, paid on an appropriate daily rate, equivalent to the gross cost of a paid staff member.
Our new Church on the Margins programme in Greater Manchester seeks to promote the idea of a 'Church of the Poor/Church on the Margins': a church of justice, inclusivity and welcome. The Church on the Margins programme will be delivered in conjunction with the Methodist Manchester and Stockport District, the Centre for Theology and Justice based at Luther King House and other ecumenical partners. It will develop a network for people who are involved in church activism, estate ministry, people from church congregations, inclusive church, alternative church and those who want to make church a more welcoming place for all.
Over the next three years we will establish and facilitate a series of peer learning sets, to bring together groups of churches and projects across Greater Manchester, to explore together what it means to be a 'church of the poor', how to respond lovingly to their local context, and how to fully engage in Christian within marginalised communities. They will share stories of how their faith informs their action, and their action deepens their faith.
The facilitator will work alongside other members of the programme team in facilitating peer learning sets, participatory theological reflection and wider learning on what it means to be a 'Church on the Margins' within Greater Manchester.
For further information and to download a full application pack visit: https://www.church-poverty.org.uk/vacancy-facilitator/
The application deadline is 5pm on Thursday 23 January.  Interviews will provisionally be on either Thursday 30 January or Tuesday 4 February.
Tweet