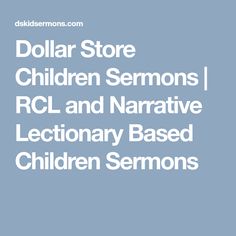 Are you looking for inspiration for children's sermons or an all-age service? Pastor John Stevens from Zion Lutheran Church, Oregon has some great ideas on hos blog Dollar Store Children Sermons .
Each week Pastor John shares a video clip of his ideas around the Sunday readings. Sometimes he has a fully developed story which can simply be reused. On other days he is offering lots of different suggestions as a springboard for you to go away with and come up with your own idea.
Each dollar sermon comes with suggestions for props you might use with children and a main 'Take Away' for the message.
Pastor John is warm, enthusiastic and fun! The ideas he shares can be used in your own home if you have a young family or for you to film yourself for a virtual service or reflection. They can be adapted to fit a range of situations and contexts, even a global pandemic.