Across the country, there are many who have just had to keep going…and it won't be until they are finally able to pause, that the full extent of the damage done in their lives will become apparent.
Four years on, I know that God has restored my soul in so many beautiful ways, but I still have flashbacks and sometimes experience times of intense anxiety. I am still on the journey towards integrating my experiences into my own story and learning to live out a new normal. Many in our country have experienced some kind of trauma during this pandemic and they too are going to need time, significant time, to process and integrate all that they have seen or felt or heard.
I believe that the church is in an amazing position to respond to the needs of
those in our nation who need to be restored at this time. We know that Jesus is
the One who can bring hope, healing and peace. And we have a God who is able
to do more than we could ever hope or imagine: He can restore my soul and
theirs.
restore is simply a way to equip churches and others to facilitate this restoration in their own communities. It is a work in progress and I offer it as a starting point.
restore: Who's it for?
Lucy is a nurse. Usually, she works on the orthopaedics ward, but since the start of the Covid pandemic, she has been working every shift in the ICU unit, nursing very sick patients. She has had to gain new skills very fast in a high-pressure situation…and she has seen some patients die. Lucy has always loved nursing, but nothing could have prepared her for her experiences over the last year and now she's weary…
Steve is in his 50s and before Covid he worked in a restaurant, but, despite everyone's best efforts, the business folded and now he faces unemployment. What's he going to do? How's he going to cope financially? Steve is trying to be positive, but underneath, the anxiety is gnawing away at him…
Aisha is 17 and working hard at school for her GCSEs, whatever they're going to look like. It's been such a tough year. She's only been in school half the time and there have been weeks of isolation at home, with nothing but a screen to connect her with her friends. She's back at school now but she just feels really down…
restore aims to be a safe, gently welcoming space in the lives of people who are weary and damaged and at the end of themselves.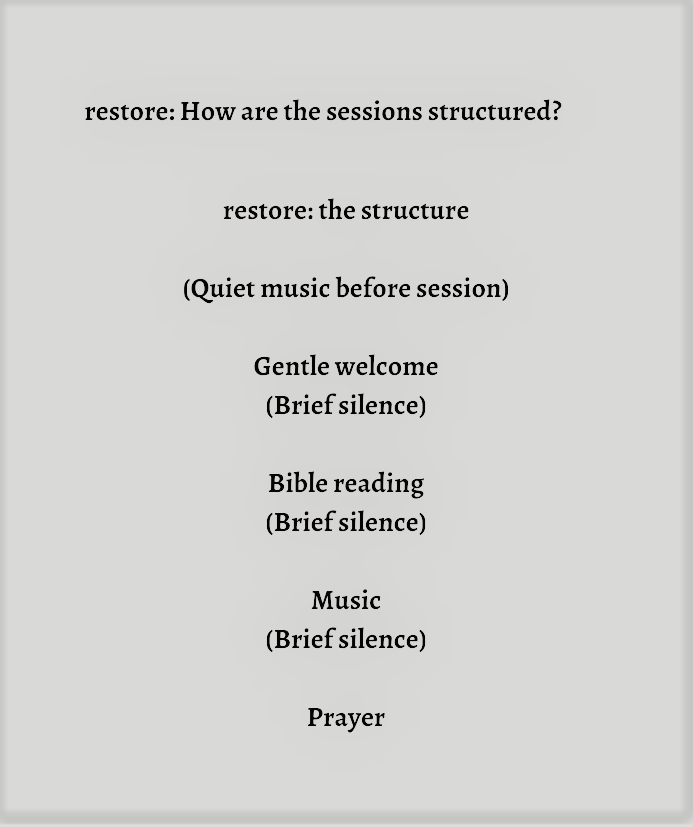 The restore space has been designed by Jane Crook who is training to be a priest in the Church of England.
If you would like further details about how to run a restore session please download the PDF below: